Southeastern Wisconsin's Largest Triton Aluminum Utility Trailer Dealer
Hanna RV is your go-to-dealer for Triton aluminum utility trailers in southern Wisconsin. We stock Triton trailers ranging in size from 4-1/2' x 8' to 7' x 14'.
The main benefit to aluminum utility trailers is their low weight (in comparison to steel trailers). Customers with light-duty tow vehicles benefit greatly from this. Let's say a customer has a small SUV with a 1500 lb towing capacity. If they buy a Triton 5X10 aluminum utility trailer, they will be able to carry roughly 1100 lbs in the trailer without exceeding their towing capacity. This is because the Triton 5X10 aluminum trailer will weigh approximately 400 lbs whereas the average steel 5x10 utility trailer will weigh roughly 1000 lbs. If a customer were to purchase the 5x10 steel trailers, they would only be able to load it with 500 lbs of cargo before meeting their maximum towing capacity and taxing the vehicle's transmission.
Trailers: Utility, Cargo, Equipment, More!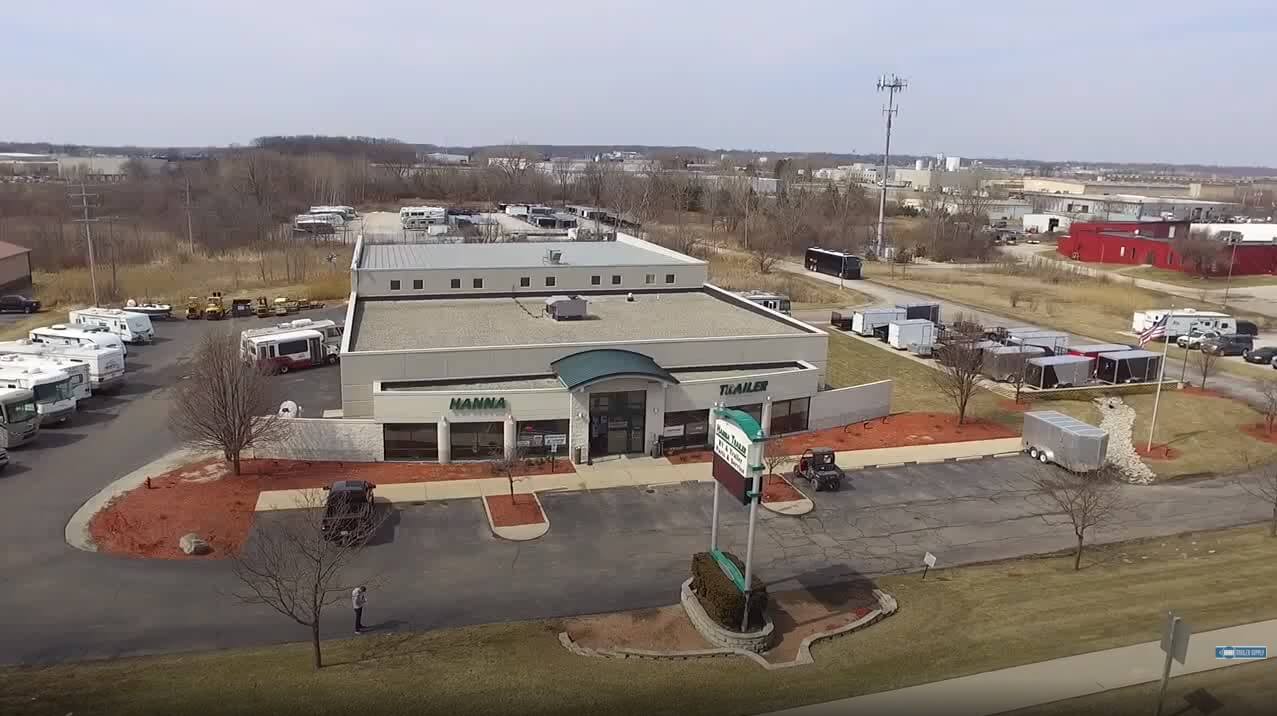 Stop By and Check Out Our Selection of Aluminum Utility Trailers Today!
Hanna Trailer Supply offers high-quality aluminum utility trailers manufactured by Triton. Aluminum utility trailers are lightweight, and they offer a high level of corrosion resistance for long life and dependability.
Why Aluminum?
Strength
Aluminum Alloy has about the same yield strength as steel
Maintenance
Aluminum doesn't require treatment or paint to be rust-resistant
Treating and painting add to the expense of a steel trailer
Weight
Aluminum is lighter, offing a smoother ride and tow
The lower weight also translates into a higher payload capacity
Better gas mileage
Warranty / Resale
With routine cleaning and maintenance, aluminum trailers will look new for decades
Aluminum offers a lower risk investment than steel because the warranties are almost always longer and better than steel
Because of its performance and limited maintenance aluminum offers much higher resale value than steel
Common Anti-Aluminum Myth
Aluminum stresses and tears more easily than a steel trailer
If aluminum is such an inferior building material, why is its resale value consistently higher than steel? Why do you rarely find a steel trailer warranty that is longer than the warranty on an aluminum trailer? For that matter, why do people who own aluminum trailers keep them longer on average than people who own steel trailers?
If you want to be technical, steel is stronger than aluminum in some respects. It has a higher modulus of elasticity, for instance, which means more force must be applied to steel before it starts to bend. However, aluminum flexes three times as much as steel, which means that aluminum is more likely to spring back to its original shape after being stressed. Steel, though, will probably stay bent. Steel also fatigues at lower levels of stress than aluminum, and steel's rigidity makes it more vulnerable to cracking because of its brittleness.
You might also be interested to know that aluminum's lower modulus of elasticity works in its favor as a construction material for trailers. A lower elasticity modulus means that an all-aluminum trailer lessens impact shock loads while on the road, giving your machines a smoother ride and creating a smoother tow for your vehicle.
Aluminum: The Right Metal For The Job
The bottom line is that aluminum is a superior manufacturing material for trailers. While a steel trailer can do the job, an aluminum trailer almost always does it better. It lasts longer, too. You may save money initially, but after watching your trailer eventually wear down to rust and getting a replacement while your friends are still using an all-aluminum trailer, you'll know why so many people consider an all-aluminum trailer to have superior value.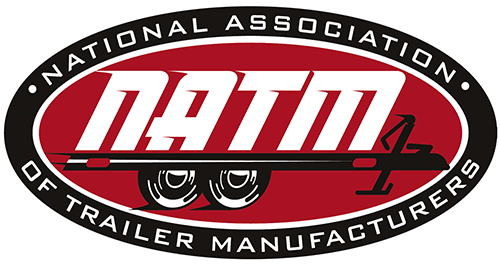 Hanna Trailer Supply is a proud member of the North American Trailer Dealers Association. By maintaining our membership in this association of light and medium-duty trailer dealers, the employees of Hanna Trailer Supply are able to keep up with the latest trends and education from industry professionals, and through NATDA benefits are able to pass along additional savings and value-added services to our customers. Click here to learn more about the NATDA.
When you buy a Triton trailer, Parker Performance trailer, Forest River trailer, Liberty Industries trailer or any other brand name trailer, be sure to look for the NATM decal that signifies the trailer is National Association of Trailer Manufacturer's standards compliant for safety and performance. Trailer manufacturers must successfully complete the NATM Compliance Consultation in order to be allowed to use these decals on their trailers. The decal is the only way a trailer-buying customer can be certain that a trailer complies with all Federal Motor Vehicle Safety Standards (FMVSS), as each of these manufacturers must complete their compliance consultation every two years. NATM is proud to uphold and support safety standards throughout the light and medium-duty trailer industry. Hanna Trailer Supply offers only the best utility trailers, snowmobile trailers, enclosed trailers, aluminum utility trailers and many more trailers that carry the NATM-compliant logo for our customers throughout southern Wisconsin and Northern Illinois. Click here for more consumer information provided by NATM and visit Hanna Trailer Supply's trailer sales lot located just south of Mitchell International Airport, on Howell Avenue in Milwaukee County.
Used Aluminium Trailers
Aluminum trailers offer lightweight construction for increased fuel economy while towing and hauling. Unlike steel trailers, aluminum units often come with increased prices due to the corrosion resistance and expense of aluminum. Owning an aluminum trailer doesn't have to break the bank. Hanna RV maintains a stock of used aluminum trailers for homeowners and contractors alike.
Frequently Asked Aluminum Utility Trailer Questions
Why should I buy an aluminum utility trailer?
Aluminum utility trailers are a great choice due to their lack of required maintenance, resistance to corrosion and ability to last for years. If you have a vehicle with a lighter towing capacity, a lightweight aluminum trailer is a good option.
How much does an aluminum utility trailer cost?
The price for an aluminum utility trailer ranges from $3,800 to $9,000, depending on the size. The aluminum utility trailers for sale at Hanna RV range from $1,900 to $5,000.
Wisconsin's Dealer for Aluminum Utility Trailers
Hanna RV ships parts across the nation from Chicago to California and our store in Oak Creek just south of Milwaukee is visited each week by customers from across the Midwest, drawing the majority of our customers from the following cities and counties:
Milwaukee County
Milwaukee
West Allis
Wauwatosa
Greenfield
Franklin
Oak Creek
South Milwaukee
Cudahy
Greendale
Shorewood
Whitefish Bay
Glendale
Brown Dear
St. Francis
Waukesha
New Berlin
Brookfield
Menomonee Falls
Muskego
Oconomowoc
Pewaukee
Hartford
Lisbon
Sussex
Hartland
Mukwonago
Merton
Delafield
Racine
Mount Pleasant
Caledonia
Burlington
Norway
Sturtevant
Kenosha
Pleasant Prairie
Salem
Washington County
Ozaukee County
Dane County
Madison
Sun Prairie
Fitchburg
Middleton
Stoughton
Oregon
Waunakee
Jefferson County
Dodge County
Brown County
Winnebago County
Outagamie County
Sheboygan County
Fond Du Lac County
Calumet County
Manitowoc County
Lake County
Waukegan
Buffalo Grove
Wheeling
North Chicago
Gurnee
Mundelein
Highland Park
McHenry County
Kane County
Cook County
DuPage County
Kendall County
Boone County
Winnebago County
Stephenson County
Ogle County
DeKalb County
Will County
Prices quoted are for cash or check. Credit card adds 2%.