Triton 08519 Aluminum Spare Tire Carrier
Brands:
Product Number:
TRI-08519
Triton 08519 Aluminum Spare Tire Carrier
Product Number:
TRI-08519
$123.99
$102.99
You Save $21.00 (16.9%)
Attention Customers:
The items we have listed for pop up campers are the only items we have available. We are not able to special order any items at this time, and we are unable to provide technical assistance due to high order volume. Thank you for your understanding.
Adding this item to your cart will qualify your order for US domestic


The Triton 08519 Spare Tire Carrier Kit is an excellent space saver for the tongue of your Triton trailer.

Product Features
Holds wheels with a 5 on a 4.5" bolt pattern with a center hole larger then 2-5/8"
Mounting plate dimensions: 7" x 6-1/2"
Distance from bottom bolt hole to first bolt hole (in a series of 4): 5-1/2" center to center
Distance between sequence of 4 holes: 1" center to center
Note: If you wish to mount the Triton 08519 Spare Tire Carrier on the trailer tongue by itself (not opposite a tongue jack) you will need the Triton 12562 Jack Hardware Kit.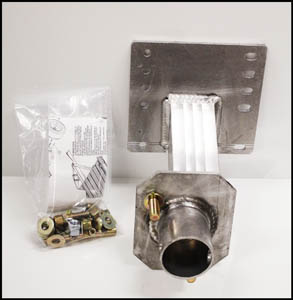 Click here to view Installation Instructions for the Triton 08519 Spare Tire Carrier.
Additional Information
Triton Snowmobile Trailers Brochure
Hanna Trailer Supply Snowmobile Trailers - Available Now!

Hanna Trailer Supply Snowmobile Trailer Parts and Accessories

A Comprehensive Guide for Getting Your Snowmobile Trailer Ready for the Season
Not sure exactly what year or model of Triton trailer you have?
Click here to view our Triton VIN Number Breakdown Chart
Ask the Triton Expert
"Why should I go with tire upgrades?"
There are a number of reasons to go with upgrade tires. Besides a sort of "peace of mind" with a bigger tire, some upgrades offer radial tires and aluminum rim upgrades as added options. Additional carrying capacity is not available with an upgrade. Carrying capacity is the combination of frame strength, axle load capacity, and tire capacity. Just by adding bigger tires does not give you more because you need to increase all three factors. Taller tires will give you more clearence when needed but it will increase ramp angle on some trailer models.
"What is the tire air pressure I should be using?"
All trailer tires should be inflated to the maximum PSI listed on the sidewall of all tires sold. The total weight capacity of the tire, as listed, is based on the tire being inflated to that tire pressure. Please check the sidewalls of your tires for your tires MAX PSI because they do vary.

Prop. 65 Warning for California Residents
WARNING: This product may contain chemicals known to the State of California to cause cancer, birth defects, or other reproductive harm.
DIMENSIONS
Height:

7.00 Inches
Width:

9.00 Inches
Length:

12.00 Inches
Weight:

4 Lb(s) 0 Oz
Ordered, Shipped, No Problems.
Nice spare tire holder and it was a lot cheaper than buying at the trailer dealership
Came out of the box in great shape. I mounted it back to back to jack. All the hardware I needed was there. The locking pin was a great surprise.