New RV Tow Dollies
Bring your car with you on your next RVing trip with a brand new Kar Kaddy from Hanna Trailer Supply!
When people talk about towing their vehicle with a tow dolly, they commonly use the words "Kar Kaddy" to describe this versatile piece of equipment.
We sell top-of-the line tow dollies manufactured by DEMCO. DEMCO's Kar Kaddies are revered as some of the best dollies on the market. Demco prides itself by offering a galvanized finish to the Kar Kaddy SS model. This prevents rust and paint chips and the galvanized tongue and loading ramps stow away for storage. Just these features alone, set us apart from the competition. The Demco Kar Kaddy is a name that is respected within the RV Industry and is a quality product that when used correctly provides a durable, safe, effective means of transporting your vehicle behind a motor home. The term "Kar Kaddy" is synonymous with the words tow dolly!
Learn more about Demco Kar Kaddys here.
Hanna Trailer Supply is a proud member of the North American Trailer Dealers Association. By maintaining our membership in this association of light and medium duty trailer dealers, the employees of Hanna Trailer Supply are able to keep up with the latest trends and education from industry professionals, and through NATDA benefits are able to pass along additional savings and value added services to our customers. Click here to learn more about the NATDA.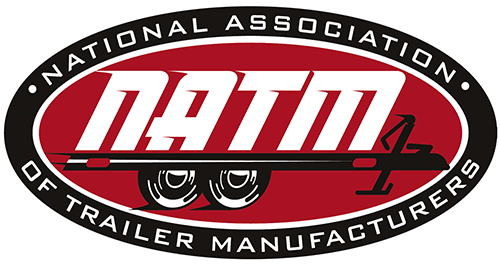 When you buy a Triton trailer, Parker Performance trailer, Forest River trailer, Liberty Industries trailer or any other brand name trailer, be sure to look for the NATM decal that signifies the trailer is National Association of Trailer Manufacturers standards compliant for safety and performance. Trailer manufacturers must successfully complete the NATM Compliance Consultation in order to be allowed to use these decals on their trailers. The decal is the only way a trailer buying customer can be certain that a trailer complies with all Federal Motor Vehicle Safety Standards (FMVSS), as each of these manufacturers must complete their compliance consultation every two years. NATM is proud to uphold and support safety standards throughout the light and medium duty trailer industry. Hanna Trailer Supply offers only the best utility trailers, snowmobile trailers, enclosed trailers, aluminum utility trailers and many more trailers that carry the NATM compliant logo for our customers throughout southern Wisconsin and Northern Illinois. Click here for more consumer information provided by NATM and visit the Hanna Trailer Supply's trailer sales lot located just south of Mitchell International Airport, on Howell Avenue in Milwaukee county.