Your Dump Trailer Dealer in Milwaukee
Chicago to Milwaukee Driving Directions for your New or Used Dump Trailer
New and Used Dump Trailers.
Call 414-762-7950 for Details.
Hanna RV carries the best scissor lift dump trailers in southern Wisconsin. We carry Top Hat and Load Trail dump trailers for cars, trucks, and semis and build custom to-spec trailers for your needs. We carry big and small trailers and offer single and tandem-axle versions of all our products. Call us at 414-762-7950 to discuss prices and options, or buy one of our standard models above.
Prices are figured at cash or check. Credit card adds 2%.
A very important thing to consider when purchasing a dump trailer is whether or not your vehicle is capable and set up for towing the trailer. We stock dump trailers as large as an 83" x 16' model that has a 14,000 lb GVWR. In order to tow this trailer safely, you need to make sure that your tow vehicle has a 14,000 lb or higher towing capacity as well as a hitch, ball mount, and ball that are all rated for 14,000 lbs or higher. If your vehicle is not prewired with a factory brake control, our service technicians can install a quality aftermarket unit for you.
Dump Trailer Buying Guide
Dump trailers are incredibly versatile trailers that allow you to haul supplies, debris, and other items to a dump site without investing in a full-size dump truck. They are also great for spreading mulch, soil, and hauling equipment like tractors, bobcats, and mini-excavators.
One thing that is very important to consider when you are trying to determine what dump trailer to purchase is its size. Dump trailers come in a variety of sizes with a variety of axle sizes. If you are looking to use your dump trailer as an equipment trailer as well, you will need one that is at least 7 feet wide that comes with ramps for loading. If you are planning on hauling large amounts of debris and materials away from a construction site, you will need to make sure that you purchase a dump trailer with the appropriate payload.
A very common feature found on dump trailers is load tarps. If you are hauling mulch or brush, you will need a tarp to secure the load so that the material does not go flying out of the trailer while you are on the road. This is not only dangerous, but there is also a good chance that you could get hit with a hefty ticket if you are caught with a load that is not properly secured. The sides of a dump trailer are not typically very tall, but they will often come with stake pockets that allow you to build them to whatever height you would like them to be. Higher sides give you more storage space and security for supplies and equipment.
A few options that you will come across when shopping the market for a new dump trailer are things like scissor hoists, ramps, adjustable couplers, battery chargers, and d-rings. Scissor hoists are very common on heavier duty dump trailers. They are considered an upgrade over dual lift cylinders that are used to raise and lower the dump bed. Scissor hoists guarantee that the bed will raise and lower smoothly time and time again. Ramps allow you to load your skid steers and other equipment onto the dump trailer, making it much more versatile. They can either be pinned onto the sides of the trailer or stored underneath the deck. Adjustable couplers are nice because they allow you to adjust the hitch height of the trailer to make it ride level with whatever tow vehicle you are using. Battery chargers allow you to plug the trailer in to shore power and charge the battery while it is not in use. Dump trailer batteries will be trickle charged by the tow vehicle's battery while connected, but having the ability to plug into household power is a nice feature. D-rings are typically welded to the inside of dump trailers, and they allow you to strap down things like equipment, pallets and machinery.
Dump trailers are both practical and versatile, and they are an excellent choice for buyers who need to transport and dispose of loads like dirt, gravel, and building materials, as well as those who need a trailer that can also be used for hauling equipment and small machinery.
Sale Priced Dump Trailers to Shop and Compare by Style, Make and Model!
Hanna Trailer Supply is a proud member of the North American Trailer Dealers Association. By maintaining our membership in this association of light and medium duty trailer dealers, the employees of Hanna Trailer Supply are able to keep up with the latest trends and education from industry professionals, and through NATDA benefits are able to pass along additional savings and value-added services to our customers. Click here to learn more about the NATDA.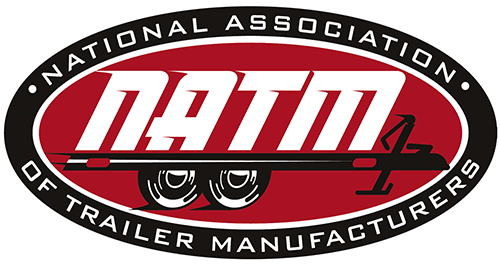 When you buy a Triton trailer, Parker Performance trailer, Forest River trailer, Liberty Industries trailer or any other brand name trailer, be sure to look for the NATM decal that signifies the trailer is National Association of Trailer Manufacturers' standards compliant for safety and performance. Trailer manufacturers must successfully complete the NATM Compliance Consultation in order to be allowed to use these decals on their trailers. The decal is the only way a trailer buying customer can be certain that a trailer complies with all Federal Motor Vehicle Safety Standards (FMVSS), as each of these manufacturers must complete their compliance consultation every two years. NATM is proud to uphold and support safety standards throughout the light and medium duty trailer industry. Hanna Trailer Supply offers only the best utility trailers, snowmobile trailers, enclosed trailers, aluminum utility trailers and many more trailers that carry the NATM compliant logo for our customers throughout southern Wisconsin and Northern Illinois. Click here for more consumer information provided by NATM and visit the Hanna Trailer Supply's trailer sales lot located just south of Mitchell International Airport, on Howell Avenue in Milwaukee County.
Wisconsin's Dealer for Dump Trailers
Hanna RV ships parts across the nation from Chicago to California and our store in Oak Creek just south of Milwaukee is visited each week by customers from across the Midwest, drawing the majority of our customers from the following cities and counties:
From the Milwaukee Metropolitan Area:

Milwaukee County:
Milwaukee
West Allis
Wauwatosa
Greenfield
Franklin
Oak Creek
South Milwaukee
Cudahy
Greendale
Shorewood
Whitefish Bay
Glendale
Brown Dear
St. Francis
Waukesha County:
Waukesha
New Berlin
Brookfield
Menomonee Falls
Muskego
Oconomowoc
Pewaukee
Hartford
Lisbon
Sussex
Hartland
Mukwonago
Merton
Delafield
Racine County:
Racine
Mount Pleasent
Caledonia
Burlington
Norway
Sturtevant
Kenosha County:
Kenosha
Pleasant Prairie
Salem

Washington County:

West Bend
Ozaukee County:
Mequon

From the Madison Metropolitan Area:

Dane County:

Madison
Sun Prairie
Fitchburg
Middleton
Stoughton
Oregon
Waunakee
Jefferson County:
Watertown
Whitewater

Dodge County

Walworth County

From the Green Bay Area:

Brown County:
Green Bay
De Pere
Winnebago County:
Oshkosh
Neenah
Outagamie County:
Appleton
Sheboygan County:
Sheboygan
Fond Du Lac County:
Fond du Lac
Calumet County
Manitowoc County

From the Chicago Metropolitan Area:

Lake County:
Waukegan
Buffalo Grove
Wheeling
North Chicago
Gurnee
Mundelein
Highland Park
McHenry County:
Crystal Lake
Algonquin
Kane County:
Aurora
Elgin
Cook County:
Chicago
DuPage County
Naperville
Kendall County:
Joliet
Boone County:
Belvidere
Winnebago County:
Rockford
Stephenson County
Ogle County
DeKalb County
Will County
Prices are figured at cash or check. Credit card adds 2%.