New Open Snowmobile Trailers
Hanna RV carries and creates the best enclosed aluminum snowmobile trailers in southern Wisconsin. We offer SnoPro hybrid and AmeraLite snowmobile trailers along with custom models. We build for vehicles big and small and use lightweight, durable aluminum that resists rusting. Call us at 414-762-7950 to discuss prices and options, or buy one of our standard models above.
Prices quoted are for cash or check. Credit card adds 2%.
SnoPro 101 x 12 Hybrid Snowmobile Trailer Dimensions Chart
| | |
| --- | --- |
| Overall Length | 16'4" |
| Overall Width | 101" |
| Overall Height | 91" |
| Interior Height | 64'' |
| Deck Height | 24" |
| Rear Door Opening Width | 93'' |
| Rear Door Opening Height | 62" |
| Hitch Height | 20'' |
| Front Access Door | 58" x 19" |
| Side Access Door | 26" x 58" |
Visit More Trails in Wisconsin with a New Trailer for Your Snowmobiles!
Hanna Trailer Supply features the top quality trailers winter sports enthusiasts have relied on for years. People living in Wisconsin will discover a new polar paradise on their snowmobiles with a quality snowmobile trailer from Hanna Trailer Supply. We are the premier trailer sales and service provider in Southeast Wisconsin. View our extensive selection of snowmobile trailer parts and accessories online.
Hanna Trailer Supply's Milwaukee snowmobile trailer sales inventory offers the latest snowmobile hauling options. Our Milwaukee snowmobile trailers have three color options and are available with varying cap heights, access door sizes, bed and tire sizes, carrying capacities, and weights. From aluminum diamond plate walls to marine grade plywood floors, Hanna Trailer Supply's expansive Chicago snowmobile trailer selection offers the best high-quality features available today.
Transport Your Snowmobile with Ease
Providing you with the greatest selection of snowmobile trailers, it won't be hard to choose. Hanna Trailer Supplies believes Triton and SnoPro trailers are the best brand names, made specifically to your needs. Let Hanna RV take care of you by protecting your snowmobile during travel. Count on us to create an easier way to transport your snowmobiles, bikes and 4 wheelers. Conveniently research all of Hanna Trailer Supplies trailers, lifts, and covers today.
SNOPRO Hybrid Snowmobile Trailers
Built on a flat trailer chassis, the SnoPro Hybrid is a fully-enclosed unit with .030" exterior skin and a rear ramp door. Built with a tapered-nose, front access door, and styled after SnoPro's signature cap design, the Hybrid is aerodynamic, extremely lightweight and versatile. Hanna Trailer has stocked and sold these top-of-the-line trailers for many years.
AmeraLite Inline Snowmobile Trailers
Serious sled heads; haul your sleds and gear with the all aluminum, fully enclosed ATST Series Inline Sled Trailer and make tracks for winter adventure. When you arrive, drive right off and hit those trails saving time and fuss with the hassle-free drive on drive off ramp feature. Packed with in-demand, performance features – standard equipment, the AmeraLite™ ATST Series Trailer is rapidly gaining loyal fans around the USA.

Snowmobile Trailer Lights And Wiring
When you are ready to hit the trails in Waukesha County, you will not have to worry if your Triton snowmobile trailer lights will work. Triton aluminum snowmobile trailers feature a no-splice wiring harness, eliminating the possibility of corroded trailer connections. If you already own another brand of aluminum snowmobile trailer and want to avoid lighting problems on your way to the Racine or Kenosha County trails use Corrosion Block Lubricant, Protectant and Waterproofing Spray.


Snowmobile Trailer Parts And Accessories
Outfit your new Triton aluminum snowmobile trailer with the hottest accessories. Hanna Trailer Supply carries a full line of Triton snowmobile trailer parts & accessories. Hanna Trailer has top brand name accessories from Triton, Caliber and Slide Guides. Chicago snowmobiling enthusiasts know installing a Triton tilt assist spring on a tilt bed snowmobile trailer makes loading tour sleds a breeze after a long day on Wisconsin's winding snowmobile trails.

Snowmobile Trailer Loading Accessories
Experienced Chicagoland snowmobile riders know a quality aluminum snowmobile trailer needs a great set of E-Z Off Ski Guides. Whether you are exploring the Waukesha, Wisconsin or Madison, Wisconsin snowmobile trails, E-Z Off Slide Guides make loading and unloading your sleds from your Triton aluminum snowmobile trailer childs' play!


Snowmobile Trailer Bed And Ramp Traction Accessories
Every aluminum snowmobile trailer needs a set of quality traction mats or Triton Paddle Grabbers to get the traction you need to load your sleds. Hanna Trailer has the snowmobile trailer traction accessories to fit your budget and get you from Milwaukee to northern Wisconsin's snowmobile trails.


Snowmobile Trailer Tire And Wheel Assemblies
Wisconsin and Illinois roads can be rough, and the harsh winters make the roads to the trails even worse. Make sure you carry a spare snowmobile trailer tire. Hanna Trailer has the best prices on the most popular snowmobile trailer tires. Hanna Trailer also carries a variety of spare tire mount brackets to carry and secure your spare tire.


Snowmobile Trailer Wheel Bearings
Never hit the road to visit Wisconsin's snowmobile trails without properly maintaining your snowmobile trailer wheel bearings. Triton aluminum snowmobile trailers have an EZ Lube wheel bearing system to extend the service intervals. And don't forget Corrosion Block Grease for your bearing maintenance and corrosion protection from Winter road salt and spray.
Snowmobile Trailer Sales
Carve your mark in fresh arctic acreage with a Milwaukee snowmobile trailer from Hanna Trailer Supply. Order your new snowmobile trailer online or call us at 414-762-7950 to speak to a Midwest snowmobile trailer sales specialist about the best way to haul your snowmobile for winters to come.
Hanna Trailer Supply is a proud member of the North American Trailer Dealers Association. By maintaining our membership in this association of light and medium duty trailer dealers, the employees of Hanna Trailer Supply are able to keep up with the latest trends and education from industry professionals, and through NATDA benefits are able to pass along additional savings and value-added services to our customers. Click here to learn more about the NATDA.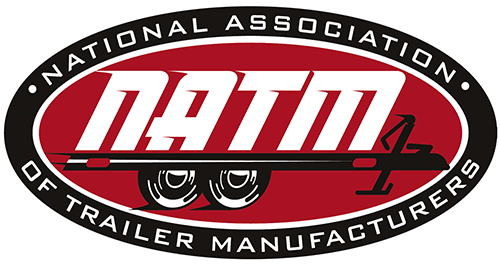 When you buy a Triton trailer, Parker Performance trailer, Forest River trailer, Liberty Industries trailer or any other brand name trailer, be sure to look for the NATM decal that signifies the trailer is National Association of Trailer Manufacturers' standards compliant for safety and performance. Trailer manufacturers must successfully complete the NATM Compliance Consultation in order to be allowed to use these decals on their trailers. The decal is the only way a trailer buying customer can be certain that a trailer complies with all Federal Motor Vehicle Safety Standards (FMVSS), as each of these manufacturers must complete their compliance consultation every two years. NATM is proud to uphold and support safety standards throughout the light and medium duty trailer industry. Hanna Trailer Supply offers only the best utility trailers, snowmobile trailers, enclosed trailers, aluminum utility trailers and many more trailers that carry the NATM compliant logo for our customers throughout southern Wisconsin and Northern Illinois. Click here for more consumer information provided by NATM and visit the Hanna Trailer Supply's trailer sales lot located just south of Mitchell International Airport, on Howell Avenue in Milwaukee County.
Wisconsin's Dealer for Snowmobile Trailers
Hanna RV ships parts across the nation from Chicago to California. Our store in Oak Creek, just south of Milwaukee, is visited each week by customers from across the Midwest, drawing the majority of our business from these cities and counties:
Milwaukee County
Milwaukee
West Allis
Wauwatosa
Greenfield
Franklin
Oak Creek
South Milwaukee
Cudahy
Greendale
Shorewood
Whitefish Bay
Glendale
Brown Dear
St. Francis
Waukesha
New Berlin
Brookfield
Menomonee Falls
Muskego
Oconomowoc
Pewaukee
Hartford
Lisbon
Sussex
Hartland
Mukwonago
Merton
Delafield
Racine
Mount Pleasant
Caledonia
Burlington
Norway
Sturtevant
Kenosha
Pleasant Prairie
Salem
Washington County
Ozaukee County
Dane County
Madison
Sun Prairie
Fitchburg
Middleton
Stoughton
Oregon
Waunakee
Jefferson County
Dodge County
Brown County
Winnebago County
Outagamie County
Sheboygan County
Fond Du Lac County
Calumet County
Manitowoc County
Lake County
Waukegan
Buffalo Grove
Wheeling
North Chicago
Gurnee
Mundelein
Highland Park
McHenry County
Kane County
Cook County
DuPage County
Kendall County
Boone County
Winnebago County
Stephenson County
Ogle County
DeKalb County
Will County
Prices quoted are for cash or check. Credit card adds 2%.