New Equipment Trailers
We carry a variety of sizes of tandem axle 14,000 lb equipment trailers from Load Trail. Load Trail is the largest growing trailer manufacturer in the country. Their trailers come standard with spring assisted stand up rear ramps (adjustable width size) and an industry best 2 year comprehensive warranty. Load Trail also offers a year roadside assistance service with the purchase of a new trailer. This protection provides 24 /7 roadside assistance when towing your Load Trail trailer. This service extends to both the trailer and the tow vehicle for 2 years from the date of purchase.
Our skid steer trailers come with a nice array of standard options including heavy duty adjustable stand up ramps, welded d-rings for tying down your equipment, and spring loaded drop leg tongue jacks for raising and lowering the trailer. Skidsteer trailers come in a variety of lengths to accomadate the size of your machine and the different attachmetns that you use.
If you own a scissor lift or mini asphalt roller you have probably found that one of the most difficult things is finding a way to haul it around. This is largely due to the fact that these pieces of equipment are very heavy, and they typically have very little ground clearance. We have heavy duty tilt bed trailers with knife edges that give you the ability to load and unload your lift or roller effortlessly.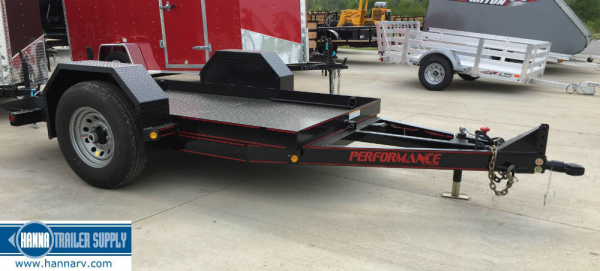 The 5x10 scissor lift trailer pictured above come with some nice standard features like a steel diamond plate deck, heavy duty 16" radial tires, and a drop torsion axle for ease of loading.
Hanna Trailer Supply is a proud member of the North American Trailer Dealers Association. By maintaining our membership in this association of light and medium duty trailer dealers, the employees of Hanna Trailer Supply are able to keep up with the latest trends and education from industry professionals, and through NATDA benefits are able to pass along additional savings and value added services to our customers. Click here to learn more about the NATDA.
When you buy a Triton trailer, Parker Performance trailer, Forest River trailer, Liberty Industries trailer or any other brand name trailer, be sure to look for the NATM decal that signifies the trailer is National Association of Trailer Manufacturers standards compliant for safety and performance. Trailer manufacturers must successfully complete the NATM Compliance Consultation in order to be allowed to use these decals on their trailers. The decal is the only way a trailer buying customer can be certain that a trailer complies with all Federal Motor Vehicle Safety Standards (FMVSS), as each of these manufacturers must complete their compliance consultation every two years. NATM is proud to uphold and support safety standards throughout the light and medium duty trailer industry. Hanna Trailer Supply offers only the best utility trailers, snowmobile trailers, enclosed trailers, aluminum utility trailers and many more trailers that carry the NATM compliant logo for our customers throughout southern Wisconsin and Northern Illinois. Click here for more consumer information provided by NATM and visit the Hanna Trailer Supply's trailer sales lot located just south of Mitchell International Airport, on Howell Avenue in Milwaukee county.
Prices are figured at cash or check. Credit card add 2%.