Appliances
Shop for all of your RV appliance needs at Hanna Trailer Supply. We offer a wide variety of quality RV appliances and RV appliance parts. From RV refrigerators, microwaves, and water heaters, to washer and dryer replacement parts, furnace repair parts, and stove parts, Hanna RV has everything you need to repair or replace your old RV appliances.
Hanna Trailer Supply is proud to be a Norcold Gold Key Dealer!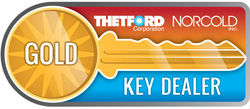 RV Washers And Dryers:
Save the hassle of trying to find a Laundromat near your campsite when you can conveniently have a washer and dryer all in one place in your RV. Hanna Trailer Supply offers compact washers and dryers, as well as stackable washer and dryer kits to save even more space. You owe it to yourself and your family to provide the convenience of doing laundry all in one place just like that a home provides. Hanna RV offers high quality repair and replacement parts for your RV washing machine and dryer including vents and ducting, and complete ducting kits, to complete your set up. Use Walex LAU-51702 Swift Laundry Detergent Packs to add to the convenience of your RV washer, with its super concentrated formula that has powerful stain removal that you simply just drop into your machine with your clothes. From washer and dryer drain pans, 4 inch dryer vent kits, 25 foot flex vinyl tubing, and 90 degree offset vent elbows, to compact electric dryers and washers and convenient laundry detergent packs, Hanna Trailer has everything you need to enjoy your camping trip without worrying about dirty clothes.
RV Water Heater Parts:
Hanna Trailer Supply understands how important it is to have hot water in your RV for washing dishes, showering, doing laundry, washing your hands, and more. We offer quality replacement RV water heater parts from trusted brands such as Camco, RV Designer, Western Leisure Products, Diamond Group, Valterra Products, Suburban, JCJ Enterprises, White Rodgers, Atwood, and more to ensure that your water heater continues to work effectively. Make sure you flush and remove the built up sediment from the bottom of your water heater with the Valterra Products, Llc A10-4010VP Water Heater Flush Kit, to ensure your water heater performs at its best. From RV water heater doors, water heater conversion kits, gas burner tube cleaners, temperature and pressure relief valves, anode rods, drain valves, screw-in heating elements, and tank flushers, to water heater drain valve wrenches, insect screens, and thermostats, Hanna RV has everything you need to service your RV water heater.
RV Furnace Parts:

Hanna RV carries all of the furnace parts you need for your RV, motorhome, or camper from the most popular and trusted brands in the industry. Keep insects and rodents from making a home in your RV furnace that can result in costly repairs, with the help of our RV furnace screens. Our popular Atwood 38535 Comfort Control Digital Thermostat can operate up to eight different RV appliances all from one convenient location and it is also very easy to install and features multiple functions. Having no heat in your RV on a cold day or night is no fun for you and your family, so make sure to stock up on the best RV furnace parts that include free shipping from Hanna Trailer Supply. From replacement furnace access panels, floor registers, thermostats, and thermocouples, to fan control module boards and wall vent kits, we have everything you need to maintain your RV furnace and get it running again.
RV Refrigerator Parts:
At Hanna RV, we know how important it is for your RV's refrigerator to be operating effectively. We carry a large selection of products that help maximize your refrigerators' effectiveness. Keep your food cold as it should be with our RoadPro RP2135 Refrigerator And Freezer Temperature Monitor Alarm which is an inexpensive solution that warns of potential food spoilage and protects your valuable frozen foods. From RV refrigerator fans, lamp bulbs, roof vents, and refrigerator bars, to vent latches, door holders, and circuit boards, you can find all of your fridge repair and replacement part needs at Hanna Trailer Supply.
RV Stove And Range Parts:
Hanna RV understands that working in your RV's kitchen can be difficult because space is so limited. We offer convenient stove top covers which give you more counter space while you are not using your stoves' burners. We also offer a variety of range hoods and other stove parts and accessories from top brands like Atwood, Ventline, Wedgewood, Camco, and JR Products to make cooking in your RV less of a hassle. Try our handy Camco 43800 Gas Stove Burner Liners - 4 Pack that are easy to install and they keep stovetop burners clean and hide pitted and rusted burner wells. From gas stove burner liners, range hoods, and flying insect screens, to range vents and drop in cook tops, Hanna Trailer Supply is your destination for the best replacement stove, oven, and range parts.
RV Refrigerators:

Hanna Trailer Supply carries a wide selection of Norcold and Dometic refrigerators for your RV. Norcold makes gas absorption refrigerators, AC/DC refrigerators, and AC/DC portable refrigerators. Norcold makes the best refrigerators available on the market, as they feature colder performance, and larger capacities than any competitors. They are also lighter than competitive models, which helps you save on gas while you are on the road. Try out the handy Dometic HZB-15S Portable Ice Maker that makes up to 33 pounds of ice every 24 hours with the first batch just taking only 15 minutes to make. From RV refrigerator power cords, adapters, portable and permanent RV refrigerators and freezers, to ice makers and wine chillers, Hanna RV offers the best in the industry when it comes to your RV refrigerator needs.
RV Water Heaters:
RV water heaters are much smaller than household heaters. The most common RV water heaters come in 6 and 10 gallon sizes. Most RV water heaters operate either in electric mode or LP Gas mode. Luckily, RV water heaters do not require much maintenance, but they do stop working after time just like any other appliance in your RV. We have a wide selection of new water heaters to replace your old one. The most important maintenance you will need to do on your water heater is preparing it for storage by winterizing it. We also carry a wide selection of water heater parts like thermocouple kits and other replacement parts. Replace your broken furnace door latches with Camco Camlocs.
RV Furnaces And Heaters:

Having a furnace in your RV is a very nice feature, especially if you plan on using your rig during the winter months. We have a variety of furnaces from industry leading manufacturers Atwood and Suburban. You can install a furnace in your RV fairly easily, but it is recommended that you have a service technician if you do not feel comfortable installing it yourself. Just like your furnace at home, your RV furnace will encounter some maintenance issues. We have replacement vent kits, access panels, and other parts so you can get your furnace working effectively. To prevent fan motor damage or furnace burner blockage, we recommend using an insect screen.
RV Stoves And Ranges:
Bring the convenience of cooking at home on the road with a new stove or range. RV stoves have become more effective throughout the years, and current models have features like high output burners and linear valves. If your vehicle is not equipped with a stove, you may consider purchasing a portable stove like the Cookmate 1600 Single Burner Non-Pressurized Portable Stove. Portable stoves run on grain based alchol, and they allow you to cook homestyle meals with ease. Space is at a premium in your RV kitchen. Luckily, products like the Camco Universal Fit Stove Top Cover can give you some extra counter space while you are preparing a meal.
RV Microwaves:
Cooking in an RV can be difficult because of limited space. Adding a space saving Contoure microwave oven to your kitchen will make cooking and reheating meals a breeze. Contoure microwaves come in 6. cubic foot, 1 cubic foot, and 1.1 cubic foot sizes. Despite their small size, they are able to work effectively, and they offer many of the same features as your household microwave. We also have replacement trim kits for Contoure microwaves.
RV Air Conditioners:

There is nothing worse than having a broken air conditioner on a hot summer day. Luckily, Hanna RV offers a wide selection of replacement parts for your RV's air conditioner. Replace your air conditioning seal to ensure that no cold air is escaping and causing you to waste money. No matter what type of Air Conditioner you have on your vehicle, we have a replacement shroud to work with it. Our replacement shrouds from Icon Direct are constructed of high-impact UV resistant plastic, and they are made to last.
RV Air Conditioner Parts And Accessories:
At Hanna Trailer Supply, we know how frustrating it can be to have a faulty air conditioner when you're RVing in hot weather. From air conditioner vents, heat strip kits, and gasket kits, to ceiling assemblies and thermostats, you can trust Hanna Trailer Supply to bring you the best selection of air conditioner parts and accessories. Browse our selection of quality air conditioner replacement parts, and get your unit working again.
RV Air Conditioner Shrouds:
Hanna Trailer Supply offers a wides selection of replacement Air Conditioner Shrouds from Icon Technologies. Icon Technologies is a leading manufacturer of aftermarket Shrouds, and other RV parts and accessories. We also carry MaxxAir Replacement Shrouds.
Check out our full line of RV Gear & Gadgets or contact Hanna RV for more information on RV appliances.