Triton FIT1072 72" Wide X 10' Long All Aluminum Utility Trailer with Bi-Fold Ramp, Aluminum Stake Sides, Solid Front End
Triton FIT1072 72" Wide X 10' Long All Aluminum Utility Trailer with Bi-Fold Ramp, Aluminum Stake Sides, Solid Front End (
FIT10-72

)
Trailer Type: Open Utility Trailer
Manufacturer: Triton
GVWR: 2995 Lbs
Weight: 523 Lbs
Carrying Capacity: 2473 Lbs
Bed Dimensions: 72-1/2" x 120"
Overall Length: 158"
Overall Width: 93-25/32"
Axle Capacity: 2995 Lbs
Brakes: None
Tire Size: ST205-75D14 Load Range C
Ball Size: 2"
Wire Harness: 4-Flat
Side: 20.6" High Aluminum Stake Sides with 20.6" High Solid Front End
Warranty: 5 Year Limited Manufacturer's Warranty
Price:
$4,549.00
$4,349.00

This product can only be picked up in stores
This is the in store cash price.
Online sales will be charged an extra 2%
Triton FIT1072 72" Wide X 10' Long All Aluminum Utility Trailer with Bi-Fold Ramp, Aluminum Stake Sides, Solid Front End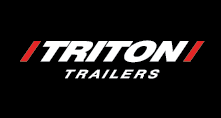 Cash / Check Price: $4349 + Tax
Credit Card Add 2%.
As its name suggests, the FIT Series is uniquely designed to fit whatever you are hauling. With a broad range of trailer sizes and carrying capacities, a wide range of accessory kits that fit every trailer model, and the most tie down possibilities to secure cargo – FIT Series is the go-to trailer, no matter what you are hauling.
Trailer Specifications:
GVWR: 2995 Lbs

Trailer Weight: 523 Lbs
Payload: 2473 Lbs
Bed Size: 72-1/2" x 120"
Tie Downs: (4) D-Rings
Overall Width: 93-25/32"
Overall Length: 158"
Tire Size: ST205-75D14 C Steel
Coupler: 2"
Hitch Height: 17"
Deck Height: 19-1/4"
Standard Features And Benefits:
Fully Welded, All-Aluminum Frame and Ramp: The Triton difference – fully welded frames and ramps are fixture-built with custom aluminum extrusions, providing added strength and solid structures for years of use.

Durable 1" Aluminum Deck for robust performance.


Bi-Fold Ramp Option: Easy to use when loading and unloading, the bi-fold ramp also folds flat on the deck when the trailer is empty, reducing drag while towing.

Quickslide™ And 360˚ Carriage Bolt Tie-Down Channels: FIT is the most flexible for securing cargo and offers the most tie down positions. Carriage bolt channels on the exterior of the frame (front, sides and rear) provide 360˚ of tie down possibilities, while Quickslide channels provide tie down options the full length of the trailer deck.

Standard And Optional Tie Downs: Every FIT trailer comes standard with four D-ring tie downs for the full-length Quickslide channels. Additional D-rings, flush tie downs and eyebolt tie downs are available for the Quickslide channels in the deck, and D-rings are available for the carriage bolt channels on the exterior frame.

Flush LED Lighting: LED lighting is integrated into the rear cross members, fenders and side rails for a clean appearance. Wiring is protected from road debris in the aluminum wireways.

Four Cord Rubber E-Coated Torsion Axle: Designed for a smooth ride and corrosion resistance.

Aluminum Fenders: The icing on the cake – sleek aluminum fenders complement the signature fit and finish of the all-aluminum construction FIT trailers.
Included Options:
Fence-Style Side Kit: Includes solid front end and two fence-style sides. Front and sides are 20.6" high from the deck.
Bi-Fold Ramp (in place of standard 4' tall ramp gate)
Made In America
Manufactured In Hartford Wisconsin
---
Questions on this trailer?
Additional Links: