Triton 15430 APT Series Utility Trailer Spare Tire Carrier Kit
Brands:
Product Number:
TRITON-15430
Triton 15430 APT Series Utility Trailer Spare Tire Carrier Kit
Product Number:
TRITON-15430
$114.99
$99.99
You Save $15.00 (13.0%)
Attention Customers:
The items we have listed for pop up campers are the only items we have available. We are not able to special order any items at this time, and we are unable to provide technical assistance due to high order volume. Thank you for your understanding.
Adding this item to your cart will qualify your order for US domestic


This Spare Tire Carrier Kit is a great addition to Triton APT model trailers. The Triton 15430 APT Series Utility Trailer Spare Tire Carrier Kit bolts right to the standard side kit of the APT Series Utility or ATV trailer. With the large 15-inch tires used on the APT series, this is the best spot for mounting a spare tire. This spare tire can be locked in with optional padlock. The kit comes with hardware to install the spare tire carrier kit.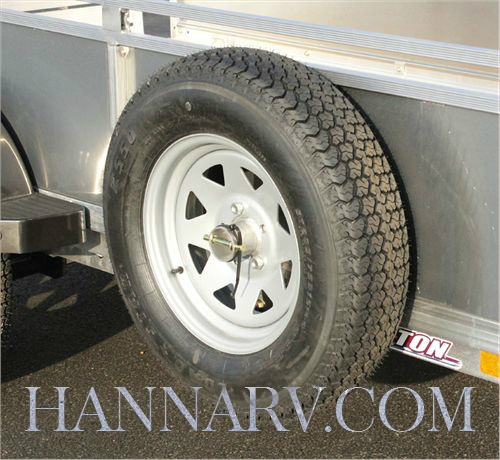 Click here to view Installation Instructions for the Triton 15430 Spare Tire Carrier Kit.
Ask the Triton Expert
"Why are some accessories not standard on a trailer like a tongue jack?"

Some trailers do have tongue jacks standard but they are usually on larger three place trailers or trailers with GVWR's over 3000 pounds. Most smaller or lighter trailers are easier to move around off the hitch with out a tongue jack. Due to personal physical limitations, added cost and/or style preference, you might or might not want to have the tongue jack or other accessories standard. Generally if it is not really needed to be able to use the trailer, an add-on or extra comfort and ease item is usually an accessory to a trailer.

This is also true for many other accessories which are optional because of the many varying needs of consumers across the US and Canada where Triton distributes its products. The standard trailer then becomes something you can mold into the trailer that you want with the options that works for your hauling needs.

Prop. 65 Warning for California Residents
WARNING: This product may contain chemicals known to the State of California to cause cancer, birth defects, or other reproductive harm.