Triton 04315 Aluminum Utility Trailer Winch Mount Kit
Brands:
Product Number:
TRITON-04315
Triton 04315 Aluminum Utility Trailer Winch Mount Kit
Product Number:
TRITON-04315
$245.99
$204.99
You Save $41.00 (16.7%)
Attention Customers:
The items we have listed for pop up campers are the only items we have available. We are not able to special order any items at this time, and we are unable to provide technical assistance due to high order volume. Thank you for your understanding.
Adding this item to your cart will qualify your order for US domestic


The Triton 04315 Utility Trailer Winch Mount Kit includes a winch and stand for pulling up hard to move heavy loads and mounts securely to your Triton UT Series trailer or other series of utility trailer. The winch mount assembly is designed for mounting onto the trailer tongue closest to the front of the trailer deck. The included winch strap is 15' long.

There are two sets of pre-drilled mounting holes on the base of the winch mount, enabling this assembly to be mounted to a 2-1/2-inch tongue width or a 3-inch tongue width using the u-bolts included in the hardware pack (Diagram of mounting holes included on customer instruction sheet). The overall height of the assembly from the base to the top of the winch is 29-1/2-inches. The total length of tongue space you would need to mount the Triton 04315 is 13-inches. That is the distance from the front of the front baseplate to the back of the back baseplate.

Capacity:
Breaking Strength: 2700 Lbs
Working Load Limit: 900 Lbs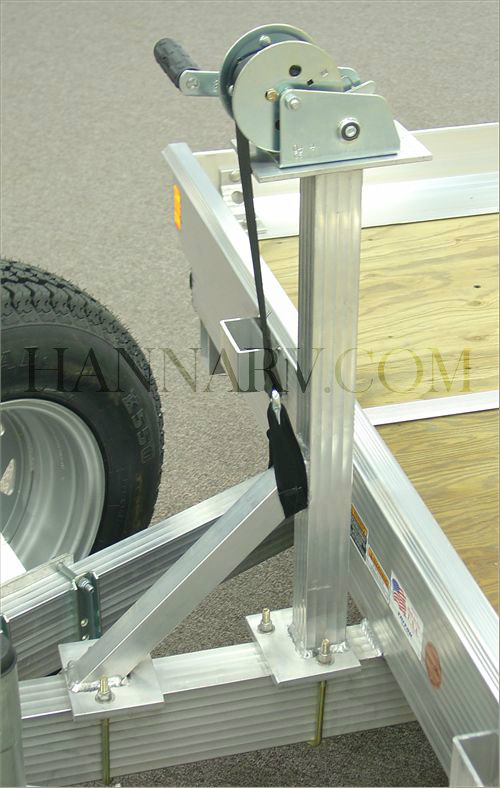 Click here to view Installation Instructions for the Triton 04315 UT Series Trailer Winch Mount Kit.
Click Here for the ATV, Utility, Motorcycle and Car Hauler Trailer Brochure
Ask the Triton Expert:

"Why are some accessories not standard on a trailer like a tongue jack?"

Some trailers do have tongue jacks standard but they are usually on larger three place trailers or trailers with GVWR's over 3000 pounds. Most smaller or lighter trailers are easier to move around off the hitch with out a tongue jack. Due to personal physical limitations, added cost and/or style preference, you might or might not want to have the tongue jack or other accessories standard. Generally if it is not really needed to be able to use the trailer, an add-on or extra comfort and ease item is usually an accessory to a trailer.

This is also true for many other accessories which are optional because of the many varying needs of consumers across the US and Canada where Triton distributes its products. The standard trailer then becomes something you can mold into the trailer that you want with the options that works for your hauling needs.

Prop. 65 Warning for California Residents
WARNING: This product may contain chemicals known to the State of California to cause cancer, birth defects, or other reproductive harm.