Welcome To Spring Savings!
From the Mailbag
As we look forward to springtime and the return of camping season, we wanted to take the time to invite you back to visit HannaRV.com! For some of you, this may be the first time you are receiving our newsletter, as your last purchase was some time before we began sending them. We offer you a hearty welcome, and invite you to give us another try. The Hanna Trailer Supply website has undergone many updates over the years to improve the shopping experience for our customers, and our available product inventory has grown substantially. Come and see our new and seasonal product offerings, and our everyday low discount pricing with free and fast shipping, including all the latest RV and camper gear and gadgets and the all-important do-it-yourself repair parts for pop-up campers, travel trailers, fifth wheel campers, RVs and utility or cargo trailers. Stock up and save on supplies like RV toilet treatments, fresh water filters, cleaning products and more to make your next camping adventure more enjoyable. Thank you for taking the time to review our latest sale items and information. Our staff is always ready to help. We wish you and yours a safe and happy camping season.
Spring Sale Featured Products
JJVs Best Aluminum Pontoon Cleaner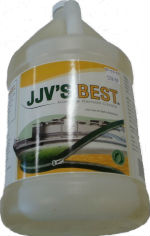 Boating and fishing season is here. Once you take your boat or pontoon out of Winter storage, you'll want to start with a good cleaning. JJV's Best ALU100-G Aluminum Pontoon Cleaner is a revolutionary product that is safe and environmentally friendly. It will clean and brighten your Pontoon tubes or aluminum boat from top to bottom without acids, safely and effectively. This product is designed to be used on bare aluminum only. Visit the product webpage for more information and a helpful demonstration video!
Clean And Comfortable Camper Rentals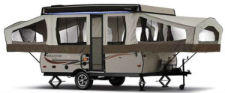 Rockwood 1970 Model Pop-up Camper Rental Units! Hanna Trailer Supply is offering tow-behind Crossover travel trailer and Rockwood pop-up camper trailer rentals this camping season at the same low rates as last season. Our camping trailer rental units are cleaned and fully maintained after each use. For camping enthusiasts in the greater Milwaukee and Chicago area, these campers offer a great opportunity to prospective camper buyers to try camping in a pop-up tent camper or travel trailer to experience the lifestyle, prior to making a future investment of ownership in your own unit. For pricing and camping trailer details, please vist our Rentals webpage. For availability and scheduling, please call 414-762-7950 and ask for the rental department.
RV Essentials Sale Products
Also Featuring...
Superior Service Guaranteed...
Hanna Trailer Supply has friendly service technicians that specialize in RV repair and inspection, RV appliance repair, RV chassis repair and maintenance, RV plumbing and fresh water systems, RV towing accessories and hitches, RV roof repair and maintenance, RV collision and body repair, awning installation, satellite installation, A/C installation, trailer repair and built to order custom jobs. If you are in the greater Milwaukee, WI area and in need of repairs or new installations, please contact us for all of your service needs.
Customer Reviews
After calling local trailer supply houses and a big on-line retailer for trailer stuff, I happened upon Hanna. They were able to cross reference the parts I needed, offered an alternative that was actually better and less expensive, then shipped it Friday afternoon and it was here Monday AM. Excellent knowledge and excellent service from the parts department. - M. Payne
Awesome place! Ordered leveling jack springs for my motorhome on a Friday evening. Got them the following Monday. The parts were a lot cheaper than eBay or Amazon too and shipping was free. If you need parts get them here. - J. Miller
Great place to do business with. I ordered tires on rims for my Triton ATV trailer and they shipped them the same day . I will buy everything for my trailer from them A+++ - Anonymous
Have been dealing with HannaRV for past three years without any problems. Always prompt shipping and always the right part ordered. - Anonymous
HannaRV had what I needed, at the best price I could find, and shipped my purchase right away. Very good communication from them as far as confirmation of account setup, order and payment, and shipping. Will definitely purchase from them again! - Anonymous
I was a little hesitant ordering online but Hanna RV came through with flying colors. Professional, courteous, good pricing and free shipping. I am very impressed and would not hesitate to recommend Hanna RV to anyone. Excellent from start to finish!! - Anonymous
EXCELLENT People to Deal with! - Richard K.
Upcoming Events...
You May Also Be Interested In...