Thetford 31084 Bravura Toilet High Profile White Color
Brands:
Thetford 31084 Bravura Toilet High Profile White Color
$274.95
$222.99
You Save $51.96 (18.9%)

The all-new Thetford 31084 Bravura Toilet High Profile White Color is much more than a replacement for the Aqua-Magic Galaxy/Starlite, and other models of toilets. The sleek outer shell symbolizes Thetford's complete rethinking about what an RV toilet should be and do not only for the consumer, but for sales and service people that deal with RV toilets every day. The Bravura has an elegant design in a lightweight, all-plastic RV toilet. Bravura's elegance can be found in its sweeping lines and attention to details.

Product Features and Specifications:
Large and convenient single-pedal flush
Universal floor flange, mount on any flange
Attractive styling that's easy to clean
Pulsating flush provides superior, near instantaneous full-bowl washdown
Front shroud pulls off for easy access to mounting bolts and pedal mechanism
Easy-off seat and cover Pod for easy cleaning or service
Taller for a built-in higher comfort level
High Profile
Color: White

Every Thetford toilet - from the finest china to the most economical - has thoughtful ergonomic features so you're assured of a comfortable, elegant and trouble-free toilet. Add water-saving features and ease of use, and you see why Thetford is the industry leader.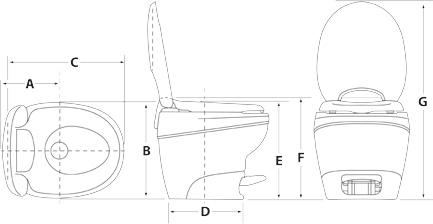 Dimensions - High Profile:

A: 11 inches, 27.9 cm
B: 16-9/16 inches, 42.2 cm
C: 20-3/16 inches, 51.3 cm
D: 12-1/2 inches, 31.8 cm
E: 16-1/4 inches, 41.3 cm
F: 17-7/8 inches, 45.4 cm
G: 34-3/8 inches, 87.3 cm

Prop. 65 Warning for California Residents
WARNING: This product may contain chemicals known to the State of California to cause cancer, birth defects, or other reproductive harm.