Thetford 32811 C402C Cassette Toilet With Electric Flush - Right Hand Waste Tank Access
Brands:
Product Number:
THE-32811
Thetford 32811 C402C Cassette Toilet With Electric Flush - Right Hand Waste Tank Access
Product Number:
THE-32811
$719.95
$599.99
You Save $119.96 (16.7%)
Attention Customers:
The items we have listed for pop up campers are the only items we have available. We are not able to special order any items at this time, and we are unable to provide technical assistance due to high order volume. Thank you for your understanding.
Adding this item to your cart will qualify your order for US domestic

Out of Stock
A holding tank with wheels and a convenient retractable handle are just two of the features of this Thetford 32811 C402C Cassette Toilet With Electric Flush built-in bench-style model toilet. The working mechanism in the holding tank is removable so the inside of the tank is easy to clean and maintain. An advanced level indicator display shows the levels in the waste holding tank.
Features of this model include:
Electric push button flush
Waste holding tank on wheels
LED display indicates when waste tank is full
Integrated no-splash pour spout
Waste tank capacity: 5.1 gallons (19.3 Liters)
Flush water tank capacity: 4 gallons (15 Liters)
Waste tank is removed from right side (while sitting on toilet)

Cassette toilets deliver the best of both worlds: the comfort of indoor plumbing, and the convenience of a holding tank that's accessible from outside the vehicle. No more carrying a holding tank through the vehicle to empty it! Cassettes save space too.
To determine whether you currently have a right hand model or left hand model cassette toilet, the waste tank access will either be located on the right side or left side while you are sitting on the toilet. Access is designed to open toward the outer wall of the RV through the outside access door.

These toilets are not returnable once shipped, so please make sure that you order the convenient waste tank access side

Please click here if you are looking for the Left Hand Thetford C402C Cassette Toilet
NOTE: Access panel is NOT included. You can purchase it here.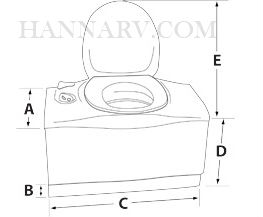 Dimensions:

A: 15-3/4 inches, 40 cm
B: 10-3/16 inches, 25.8 cm
C: 26-3/8 inches, 67 cm
D: 18 inches, 45.8 cm
E: 14-1/8 inches, 35.8 cm

Prop. 65 Warning for California Residents
WARNING: This product may contain chemicals known to the State of California to cause cancer, birth defects, or other reproductive harm.
Customers Also Bought:
Out of Stock
REG. $14.95
Sale! - $12.99
You Save $1.96 (13.1%)
REG. $139.95
Sale! - $116.99
You Save $22.96 (16.4%)
Free Shipping
REG. $719.95
Sale! - $599.99
You Save $119.96 (16.7%)
Free Shipping