Camco 40621 EVO RV Water Filter Replacement Cartridge
Brands:
Product Number:
CAM-40621
Camco 40621 EVO RV Water Filter Replacement Cartridge
Product Number:
CAM-40621
$29.95
$25.99
You Save $3.96 (13.2%)
Attention Customers:
The items we have listed for pop up campers are the only items we have available. We are not able to special order any items at this time, and we are unable to provide technical assistance due to high order volume. Thank you for your understanding.
Add

$35.00

worth of items to your cart to qualify for

The Camco 40621 EVO RV Water Filter Replacement Cartridge includes one replaceable filter cartridge. The filtration begins with the water traveling through a porous shell with openings no greater than 5 microns in diameter. The filtered water then passes through a bed of KDFR and GAC for further filtration and bacteria control. The result is fresh, clean, great tasting drinking water straight from your tap.
Click The Image Below To View The Camco TastePURE RV Water Filters Comparison Chart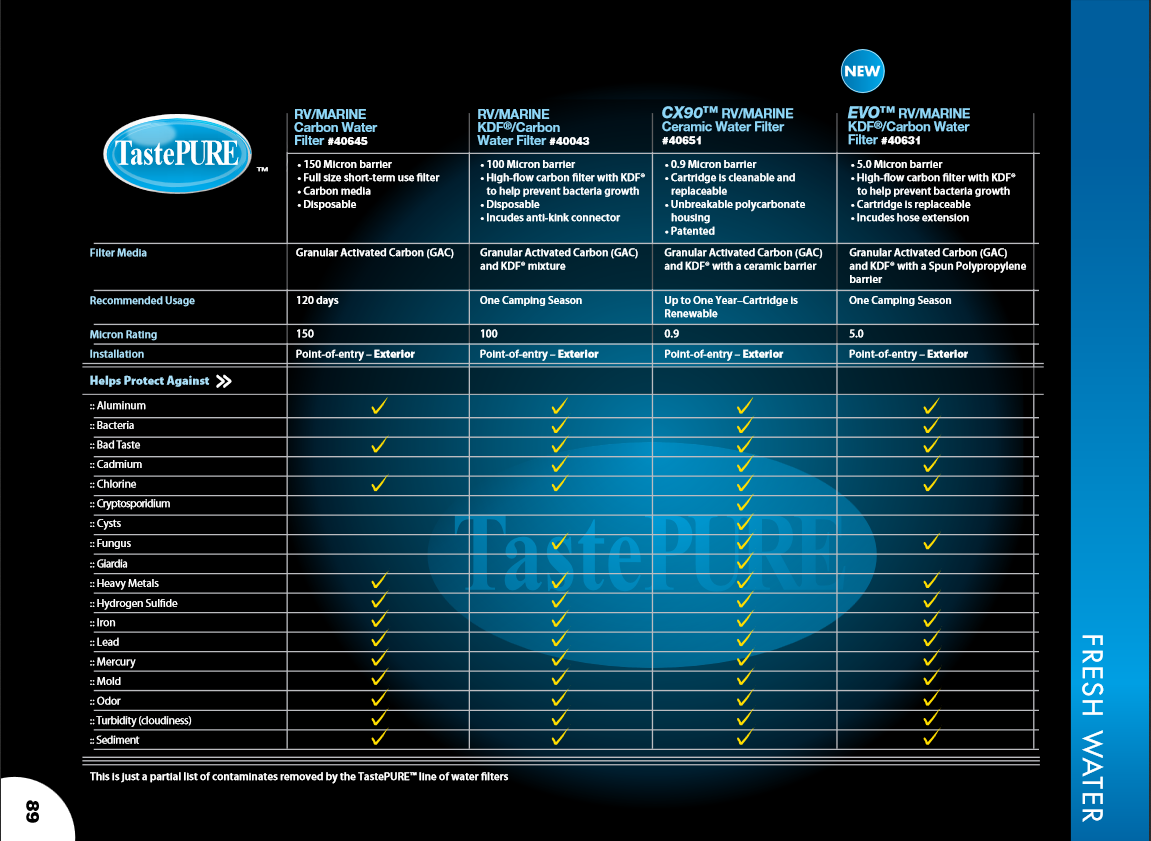 Click Here To Download the PDF Version Of The Camco TastePURE RV Water Filters Comparison Chart
Additional Information
Prepare Your RV For Spring With This Handy Checklist - Get Your RV Or Camper Ready For The Road With De-Winterization Tips From The Hanna Trailer Supply Team.
RV Water Filter FAQ
1. Why does my water look gray after I change my rv water filter?
This is a common occurrence after changing a carbon filter and is caused by fine carbon dust being flushed out of the cartridge. It will be gone after you run a few gallons of water through the unit.

2. When should I change my rv water filter?
There are two primary indicators that will alert you to replace a filter cartridge. The first indicator is a reduction in flow rate, which is caused by a filter getting plugged with sediment. The second indicator is a little less obvious and involves your taste-and-odor rv water filter. If you notice that the taste and/or odor of your water is not as clean as it used to be, it is very likely that your carbon rv water filter is losing its effectiveness and needs to be replaced. This assumes that you have a carbon filter.

4. Why should I filter all the water going into my RV, including the water for the toilet?
Many plumbing fixtures, both in homes and RVs, have small orifices and moving parts that come in contact with the water. Sediment and sand can wreak havoc in these fixtures, and removing the sediment is often much cheaper than repairing a plugged or damaged fixture. RV parks can have a real load of sand and sediment in the water.

5. Why would I need a double-canister filter setup?
There are two primary tasks that you'll want your filtration system to perform: remove sediment and improve the taste and odor of the water. While it is possible to do both with one rv water filter, you'll get better performance if you utilize separate water filters for each of these tasks.

6. Do rv water filter canisters need to be upright to work properly?
No, they can be mounted in any position you want. However, cartridges containing granular carbon may have a problem if not upright. Granular carbon is subject to "channeling" in which the water forms small channels that enable it to bypass the carbon. This condition seems to occur more when these cartridges are not upright.

7. Why can't I have a clear canister as one of my two in a dual-canister rv water filter system?
You can, of course, and we sell them that way. However, if you are planning to set up your canisters outside your RV where a lot of light will be available, we don't recommend you use a clear canister. The reason for this is that the light will promote algae growth, which will prematurely plug up your filter. If you want to include a clear canister, you should place it somewhere that is protected from light such as a bay or under the sink.

Prop. 65 Warning for California Residents
WARNING: This product may contain chemicals known to the State of California to cause cancer, birth defects, or other reproductive harm.