Thetford 31675 Aqua Magic V Toilet High Profile - Hand Flush With Water Sprayer
Thetford 31675 Aqua Magic V Toilet High Profile - Hand Flush With Water Sprayer
$213.95
$170.99
You Save $42.96 (20.1%)
The Thetford 31675 Aqua Magic V Toilet High Profile - Hand Flush With Water Sprayer is the most popular RV toilet in North America, and it's revolutionary new design makes this all-plastic toilet even better. It's an economical choice and more - a solid, day-after-day performer. It is available with dual-hand or convenient dual-foot pedal operations. This toilet is also available in high or low profiles to fit your specific space requirements.

This toilet is completely redesigned to flush easier and provide full-bowl coverage. Plus, the greater height means more comfort. Attractive, economical, and easy-to-use, the Aqua Magic V is a proven, reliable performer.

Product Features and Specifications:
Easy-to-use one-handle flush
- Half way adds water, full activation flushes
- Better flush - full bowl coverage
Available in high or low profiles to fit your specific space requirements
Lightweight; easy to install, use and service
Textured lid sheds water, resists scuffs
Water-saving Hand Sprayer available (Included)
High Profile - Offers taller seating height for maximum comfort
Color: White
Every Thetford toilet - from the finest china to the most economical - has thoughtful ergonomic features so you're assured of a comfortable, elegant and trouble-free toilet. Add water-saving features and ease of use, and you see why Thetford is the industry leader.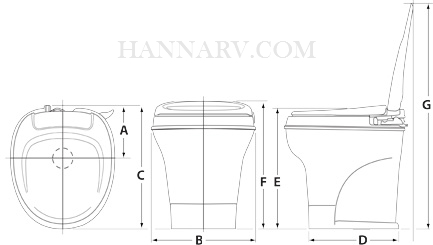 Dimensions - High Profile:

A: 7-5/8 inches, 19.3 cm
B: 15-1/8 inches, 38.4 cm
C: 17-13/16 inches, 45.2 cm
D: 12-5/8 inches, 32 cm
E: 17-1/2 inches, 44.5 cm
F: 18-1/2 inches, 47 cm
G: 32-1/2 inches, 82.6 cm

Prop. 65 Warning for California Residents
WARNING: This product may contain chemicals known to the State of California to cause cancer, birth defects, or other reproductive harm.