ADCO RV Cover Installation Guide
Properly covering your camper with a quality ADCO RV cover is a great way to safeguard your investment when it's not in use. Here is a step-by-step guide to covering your RV for long term storage. Installing an ADCO RV cover is a one-person operation but can be performed faster with a partner.
Wash your camper before storing it beneath its RV covers
We highly recommend washing your motorhome thoroughly before installing your ADCO RV cover. Pre-existing mold and mildew can worsen under the RV cover, especially if your camper is being stored for months at a time. Be sure to wash and dry your awnings, tires, wheel wells, and anywhere moisture and filth might collect.
RV tire covers and wood planks
Years ago, motorists used to store vehicles by parking on wood planks in an attempt to stop their nylon tires from developing flat spots. While people still apply this logic to modern vehicle storage, the reasoning has changed. The primary purpose of parking your RV on wooden planks before applying RV tire covers is to protect the tires from moisture-based deterioration. Grass and mud are obvious culprits, but even concrete is particularly harmful to inactive tirces because moisture seeps up through the pavement and keeps the tires damp. Wood is vastly superior to concrete in preventing this harmful moistures from reaching the tires. Parking on wood planks also elevates your tires, keeping them above puddles, mud, and melted snow.
Preparing to install an ADCO RV cover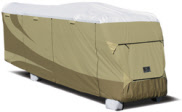 Lower your camper's antennas and apply padding to any sharp corners. This will prevent snags and hang-ups, making your ADCO RV cover installation easier and preventing damage. Next, remove your ADCO RV cover from its storage bag and place it behind your camper. Locate the sewn in "front" tag and the rope attached nearby. Unroll the RV cover flat behind your camper with the "front" rope near the REAR bumper.
For the next step, some people choose to climb on top of their RVs using the rear ladder, but we recommend placing a sturdy step ladder alongside your camper. USE EXTREME CAUTION TO AVOID FALLING.
ADCO RV cover installation
Pull the front of the RV Cover over your camper, methodically working it towards the front while ensuring it does not snag on corners, ladders, racks, etc. Drape the side panels down over the RV. Climb down the ladder and adjust the RV cover into place using the corners as guide points. Pulling the elastic corners beneath the coach should begin to hold the RV cover in place. Use the weighted strap and buckle mechanisms to secure the cover underneath the RV. Do not over tighten the buckle mechanism; you do not want to apply potentially damaging pressure; the goal here is merely preventing the wind from removing your RV cover.
Locate the eye-holes on each corner of the RV cover. Use a piece of rope or twine to connect both front corners together, and then use another piece to connect both back corners. Do NOT use bungee cords and do NOT over tighten the rope. The goal here is to remove slack but without putting pressure on the sewn-in eye holes.
Buy RV Covers Online NOW With FAST SHIPPING
Class C and Class A ADCO RV Covers are a durable, cost-effective alternative to expensive indoor storage fees. Order from Hanna RV today to receive super fast shipping on our RV Covers.
Contact our RV cover experts at 414-762-7950 today.