ADCO 52271 Designer Series SFS AquaShed Toyhauler RV Cover Up To 20-feet
Brands:
Product Number:
ADCO-52271
ADCO 52271 Designer Series SFS AquaShed Toyhauler RV Cover Up To 20-feet
Product Number:
ADCO-52271
$431.95
$359.99
You Save $71.96 (16.7%)
Attention Customers:
The items we have listed for pop up campers are the only items we have available. We are not able to special order any items at this time, and we are unable to provide technical assistance due to high order volume. Thank you for your understanding.
Adding this item to your cart will qualify your order for US domestic


ADCO RV COVER DESIGNER SERIES SFS AQUASHED Toyhauler
UP TO 20-FEET BUMPER TO BUMPER LENGTH
Choosing A Designer Series SFS AquaShed Camper Trailer Cover:
---
About This RV Cover
The ADCO 52271 Designer Series SFS Aquashed RV Cover is designed to fit toy hauler trailers measuring up to 20-feet in overall length. The Designer Series SFS AquaShed RV Cover is designed for maximum resistance to heavy rain - moisture and humidity during short term storage. The triple layer SFS AquaShed top panel material beads water on contact. The new Designer Series polypropylene sides ensure maximum breathability - virtually eliminating mold and mildew problems. This cover also provides protection against harmful UV rays that can cause unwanted cracking and fading of the finish on your toyhauler trailer. The most popular feature has to be the passenger-side zipper entry doors - which can be unzipped and rolled up offering easy access to your covered RV. And the Designer Series SFS AquaShed RV Covers also include the common features of ADCO covers that we all know and love. They include - reinforced front corners to resist snags and tears - front and rear buckle cinching system to remove slack and prevent billowing in the wind - and water resistant yet breathable - quality-made construction. This cover package includes a storage bag and 2 year manufacturers warranty.

Part #
Length
Cover Dimensions
(L x W x H)
52271
Up To 20'
246" x 106" x 120"
Please measure your RV to ensure a proper fitting RV cover. Measure the length from bumper to bumper including the ladder and/or the spare tire. Do not rely on the manufacturer's specifications to determine the actual length of your RV. RV Covers are made to accommodate roof top accessories, such as A/C, roof vents, etc.
Designer Series SFS AquaShed ADCO RV Cover Features
Zipper Entry Panels For Easy Door Access
Breathable Triple Layer SFS AquaShed Top Panel Provides Moderate Sun And Superior Wet Weather Protection
Triple Layer Polypropylene Side Panels Bead Water On Contact
Roof Fabric Partially Extends Down The Front, Back And Sides Of The Cover For Extra Protection
Extra Reinforcements Have Been Added To Resist Snags And Tears
Reinforced Buckles, Flaps and Straps To Hold Cover In Place And Avoid Rips
Weighted Strap And Buckle Assist For Easier Installation
Ladder Cap Reduces Snags And Wear Around The Ladder
Vents Allow Breathability And Also Prevent Billowing
Storage Bag Included
Rain Gutter Spout Protectors Included
2 Year Manufacturer Warranty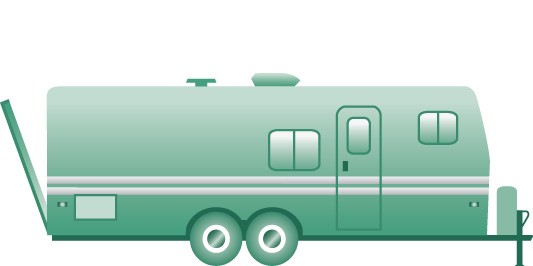 The Benefits Of RV Covers
RV Covers are an effective cost saving way to store and protect your RV outdoors. They are a great value compared to the ADCO Designer Series Tyvek Plus Wind RV covers and a better alternative than other RV cover brands. SFS AquaShed covers are durable and made to last, and include a 2 year manufacturer's warranty for repair or replacement due to any manufacturing defects.
The ADCO Designer Series SFS AquaShed Toyhauler Trailer RV Covers are designed for maximum water resistance outside and moisture resistance under the cover, as well as moderate protection from the sun's UV rays. Many are unaware of the chemicals in rain that can corrode the aluminum on your new RV as well as damage and fade the finish. In very little time, sun exposure can potentially tarnish your RV's finish and dry out any plastic and rubber parts. RV Covers are a great investment as they will protect your RV from the elements extending the life of the RV and keeping its resale value high.
Without an RV cover, your recreational vehicle would be bombarded daily by bird droppings, tree sap and debris, UV rays and all the weather elements that can wreak havoc on your RV exterior. All of the major problems associated with moisture, like mold, mildew, rust, and black streaks caused by condensation and runoff are costly, time consuming and labor intensive to repair or remove. ADCO RV Covers are made of ventilated, breathable 3 layer SFS AquaShed fabric that shields your RV roof and 3 layer polypropylene sides that bead water on contact. Vents are built into the RV cover at the top along the sides to allow the air to move in and out of the under cover interior, which dries any moisture and prevents the cover from billowing. The SFS AquaShed Designer Series covers also have additional reinforcement built in specifically designed to resist wear and tear, and include a ladder cap and rain gutter spout covers to resist puncture. These covers have an extra tight front and back cinching system and the weighted buckle and strap system underneath for a tight, snug fit.
Hanna Trailer Supply recommends that you protect the investment you've made in your RV with this easy to install, extremely durable RV Cover for rainy and dry seasons with moderate climate.

Prop. 65 Warning for California Residents
WARNING: This product may contain chemicals known to the State of California to cause cancer, birth defects, or other reproductive harm.
Customers Also Bought:
REG. $29.99
Sale! - $23.99
You Save $6.00 (20.0%)