ADCO 3016 Polar White Vinyl RV Rooftop Air Conditioner Cover For Duo Therm, Penguin And Dometic A/C Unit
Brands:
Product Number:
ADCO-3016
ADCO 3016 Polar White Vinyl RV Rooftop Air Conditioner Cover For Duo Therm, Penguin And Dometic A/C Unit
Product Number:
ADCO-3016
$38.95
$31.99
You Save $6.96 (17.9%)
Attention Customers:
The items we have listed for pop up campers are the only items we have available. We are not able to special order any items at this time, and we are unable to provide technical assistance due to high order volume. Thank you for your understanding.
Add

$35.00

worth of items to your cart to qualify for

The ADCO 3016 Vinyl Air Conditioner Storage Cover Specifications:
Part #
Size
Cover Dimensions


(L x W x H)

3016
16
39" x 25" x 11"
This cover comes in polar white color size #16 and fits Duo Therm, Penguin I & II and Dometic low profile models. See diagram below for common RV air conditioners and their corresponding RV A/C cover sizes.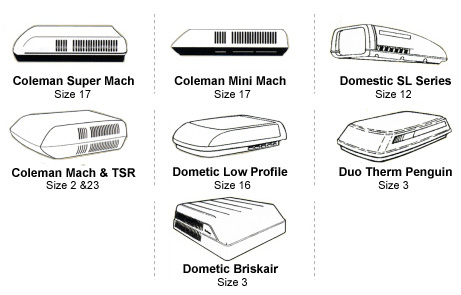 Protect your rooftop air conditioner while not in use. Heavy-duty jersey-backed vinyl protects against airbourne contaminates and U.V. Helps reduce draft on cold days. Secures with "parchute" style draw cord. Weatherproof, non-tearable seams. Order by shroud dimensions for best fit.
Deluxe Heavy Duty Vinyl with constrasting welt cord and parachute draw cord allows tailored fit.

Reinforced nylon thread construction offers weatherproof non-tearable seams for durability.

Keeps leaves and dirt out of your Air Conditioner.

Cuts down draft on cool days.
DO NOT USE WHILE TRAVELING!
Hanna Trailer Supply offers a complete line of affordable, name brand RV air conditioner covers protecting your RV's air conditioning unit from inclement weather. Our RV air conditioner covers feature vinyl designed to protect your AC's metal and rubber components by allowing any trapped moisture to easily escape. The polar white RV air conditioner covers perfectly match any new or used RV.
View our full selection of affordable RV covers online from the name brands you prefer! Check out our other Cold Weather Products for RVs, Campers, Fifth Wheels, and Travel Trailers.

Prop. 65 Warning for California Residents
WARNING: This product may contain chemicals known to the State of California to cause cancer, birth defects, or other reproductive harm.
Customers Also Bought:
REG. $31.99
Sale! - $25.99
You Save $6.00 (18.8%)
REG. $17.95
Sale! - $14.99
You Save $2.96 (16.5%)
REG. $23.95
Sale! - $21.99
You Save $1.96 (8.2%)