Triton 03837-P 1-1/16 Inch Grease Seal - 2 Pack
Brands:
Product Number:
TRITON-03837-P
Vendor Number:
03837 x2 (10-60 x2)
Triton 03837-P 1-1/16 Inch Grease Seal - 2 Pack
Product Number:
TRITON-03837-P
Vendor Number:
03837 x2 (10-60 x2)
$9.99
$7.99
You Save $2.00 (20.0%)
Attention Customers:
The items we have listed for pop up campers are the only items we have available. We are not able to special order any items at this time, and we are unable to provide technical assistance due to high order volume. Thank you for your understanding.
Add

$35.00

worth of items to your cart to qualify for

This product listing is a 2 pack of Triton trailer grease seals. These seals work with standard grease and E-Z Lube applications.
Double lip seal dimensions
1.987" Outer Diameter
1.5" Inner Diameter
Fits Dexter 2,200 lb. hubs and drums and most trailer hubs and drums that use 1 1/16" Inner & Outer bearing 010-060-00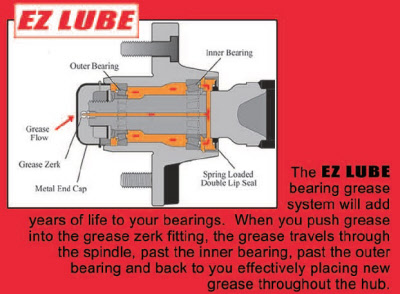 Additional Information
Triton Snowmobile Trailers Brochure
Hanna Trailer Supply Snowmobile Trailers - Available Now!

Hanna Trailer Supply Snowmobile Trailer Parts and Accessories

A Comprehensive Guide for Getting Your Snowmobile Trailer Ready for the Season
Not sure exactly what year or model of Triton trailer you have?
Click here to view our Triton VIN Number Breakdown Chart
Ask the Triton Expert
"How often should I grease my axle?"

The axle companies that we work with suggest lubrication at least once every 1000 miles or 3 months of use. Several factors like temperature, loads, and speeds while hauling are all variables in grease breakdown and wear. Inspection of grease condition and/or lack of grease before and after long trips is a nice way to keep track of the grease.

"What kind of grease needs to be used for the bearing system?"

Triton uses a high speed axle grease that is a lithium complex type of thickener. There are a number of approved brands that make a bearing grease that can hold up very well for trailer uses. Below are the specifications for this lithium complex grease that should be used.

- Thickener Type: Lithium Complex
- Dropping point: 215° C (419° F) Minimum
- Consistency: NLGI No. 2
- Additives: EP, Corrosion & Oxidation Inhibitors
- Viscosity Index: 80 minimum

"Do I need a spring loaded add-on bearing cap?"

NO, you already have a better system than that now. All Triton trailers have a grease system built into the axle and hubs that flows the grease past both inner and outer bearings and out. You effectively flush out the used grease when you push the grease through. The after market spring loaded add-on caps to the hubs really only tell you the grease level inside. This will only give the good grease, at best, to the front bearing not the inner bearing. This is why in the past you burnt out the inner bearing, the inner bearing got the second hand used grease.

Prop. 65 Warning for California Residents
WARNING: This product may contain chemicals known to the State of California to cause cancer, birth defects, or other reproductive harm.