Slide Guides Inc. E-Z Off Snowmobile Trailer Ski Guides - 12 Foot Length x 8-1/4 Inch Width - Pair
Brands:
Product Number:
12WS-PAIR
Slide Guides Inc. E-Z Off Snowmobile Trailer Ski Guides - 12 Foot Length x 8-1/4 Inch Width - Pair
Product Number:
12WS-PAIR
$169.99
$119.99
You Save $50.00 (29.4%)
Attention Customers:
The items we have listed for pop up campers are the only items we have available. We are not able to special order any items at this time, and we are unable to provide technical assistance due to high order volume. Thank you for your understanding.
Adding this item to your cart will qualify your order for US domestic


E-Z Off Trailer Slides are designed to eliminate the friction caused between carbide runners on the skis and the trailer deck. Between the weight of the snowmobile and the sharp carbides, loading and unloading a snowmobile can be a big chore. E-Z Off slides make loading and unloading almost effortless. Not only will E-Z Off slides make ending a long day of snowmobiling less tedious, but also will save your trailer deck from imminent destruction by the carbides.
E-Z Off Slides are made out of an extruded Polycarbonite (plastic) material called polyethylene (recycled milk bottles). Polyethylene has a low coefficient of friction which makes it the perfect material for our application. We also add black coloring dye and a UV protectant to prevent the sides from becoming brittle and discolored. Summed up, E-Z Off Slides are made of a plastic material that allow your snowmobile to slide on and off your trailer easily while remaining virtually maintenance free.

Slide Guides Inc. E-Z Off Trailer Slides measure 3/8'' X 8-1/4" X 12' and they have become the snowmobile trailer slide of choice. These "wide slides" are sold as a pair and include the stainless steel mounting screws to attach them to your snowmobile trailer bed. The slides are also pre-drilled for the screw that we provide. Many grooves allows loading several different width sleds on the same pair of slides. Low profile thickness doesn't get in the way for loading ATV's or whatever else you might load on your snowmobile trailer, so you won't trip over it. You can turn your skis out of our Low Profile Slides without lifting your sled up. This is important when unloading off the front of a V-nosed trailer. It features countersunk mounting slots allow the plastic to move like vinyl house siding and helps prevent slide buckling. All low profile slides will buckle if you don't allow them to expand and contract a little.
Product Specifications:
Width: 8 1/4 inches
Length: 12 feet

Thickness: 3/8 inch
Multi-grooved
Low Profile
1.5 inch long countersunk mounting slots
Solid one piece construction
Heavy duty stainless steel screws and installation instructions included
Easy and quick installation
MADE IN THE USA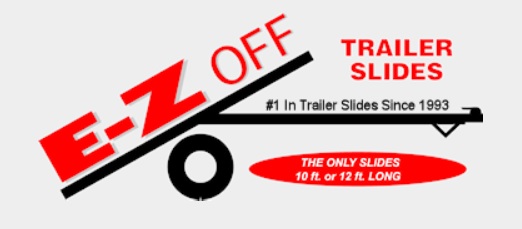 Prop. 65 Warning for California Residents
WARNING: This product may contain chemicals known to the State of California to cause cancer, birth defects, or other reproductive harm.
How Many Slide Guide Do I Need For My Trailer?


Installation Directions:
E-Z Off slides are made of polyethylene (recycled milk bottles) and have expansion and contraction characteristics similar to vinyl house siding. We suggest that you install them on your trailer at the median temperature of your local climate. (not in August at 90 degrees or in January at 10 degrees below.)
When installing your new E-Z Off Slides, you will find at the front of each slide, two sets of countersunk slots 4" apart. The second slot back is an extra slot only used when the front end of your slides need to be cut off to fit the trailer or fit under a trailer cover. You will also notice there are two sets of slots 10" apart in the middle of the slide. These are used when the slide needs to be cut in half to fit ramps, etc. If the slides are going to remain whole, only put screws in the slots that are 26" behind the anchor hole. You will have up to 4 slots without screws, this is OK.
Position slides with slots closest to the end of the slide to the back edge of trailer and the anchor holes toward the front of the trailer. Remove any excess length from front end with any woodworking saw. Screw onto deck with enclosed stainless steel screws. Tighten screws in 2 small holes as your anchor. Position screws in center of slots. Loosen screws in each slot 1 to 1 1/2 turns. This will allow slides to expand and contract like vinyl house siding.
Warning:
This product is solely intended to aid in the loading and unloading of snowmobiles on and off trailers. Plastic becomes very slippery when wet or snow covered. Always stand to the side of the trailer when unloading. NOT BEHIND IT. Your sled may come down very fast when you tilt the trailer.
E-Z Off Trailer Slides by Slide Guides, Inc.
#1 In Trailer Slides Since 1993
Made In The USA