Snowdogg XP810 Expandable Wing Stainless Steel Snowplow
Brands:
Vendor Number:
DOUBLE D XP810
Snowdogg XP810 Expandable Wing Stainless Steel Snowplow
Vendor Number:
DOUBLE D XP810
Attention Customers:
The items we have listed for pop up campers are the only items we have available. We are not able to special order any items at this time, and we are unable to provide technical assistance due to high order volume. Thank you for your understanding.
This product can only be picked up in stores
** Why Choose A SnowDogg Stainless Steel Snowplow? Find More Answers Here! **
The Snowdogg XP810 expandable plow provides maximum coverage with a full 10 feet of plow width. Hydraulic control through large 3/8" hoses and full size SAE cartridge valves allow you to easily shift on the fly to adjust your plow angle and width. This high performance plow features stainless steel construction with a rugged center moldboard and 20 degree forward scoop. One foot expandable wings fold back to an 8 foot wide configuration for tight spaces and easier parking.
Features And Benefits
Hydraulically expanding wings add a full 24" to your plowing width
Rugged center moldboard construction spreads loads across components not connection points
Simple hydraulics with full size SAE cartridge valves and oversized 3/8" hoses
Forward 20° scoop provides excellent snow pushing action and still allows for flawless throwing while windrowing.
Adjust your width on the fly for drive-thrus, driveways or narrow spots
Plow Spec Chart
Model
Width
Blade
Height
Material
Thickness
Angle
Cylinders
Kingpin
Size
Width
at Angle
XP810
96" -120"
29"
SS
.105"
1-1/2" x 12"
1-1/8"
104"
Model
Ribs
Springs
Trip Style
Cutting
Edge
Weight1
Deflector
Shoes
XP810
9
4
Full
5/8" x 6"
1,021 lbs.*
Std.
Cast
1Weight not including truck mount, 40-80 lbs. typical weight, *not including shoes

Prop. 65 Warning for California Residents
WARNING: This product may contain chemicals known to the State of California to cause cancer, birth defects, or other reproductive harm.
Click Here For The Snow Plow Vehicle Fit Chart
Click Here For The SnowDogg Plow Selector Tool
Click Here To Find Out Which Wiring Harness Or Mount You Will Need For Your Vehicle
Click Here To View the Parts Diagram Manual For This Plow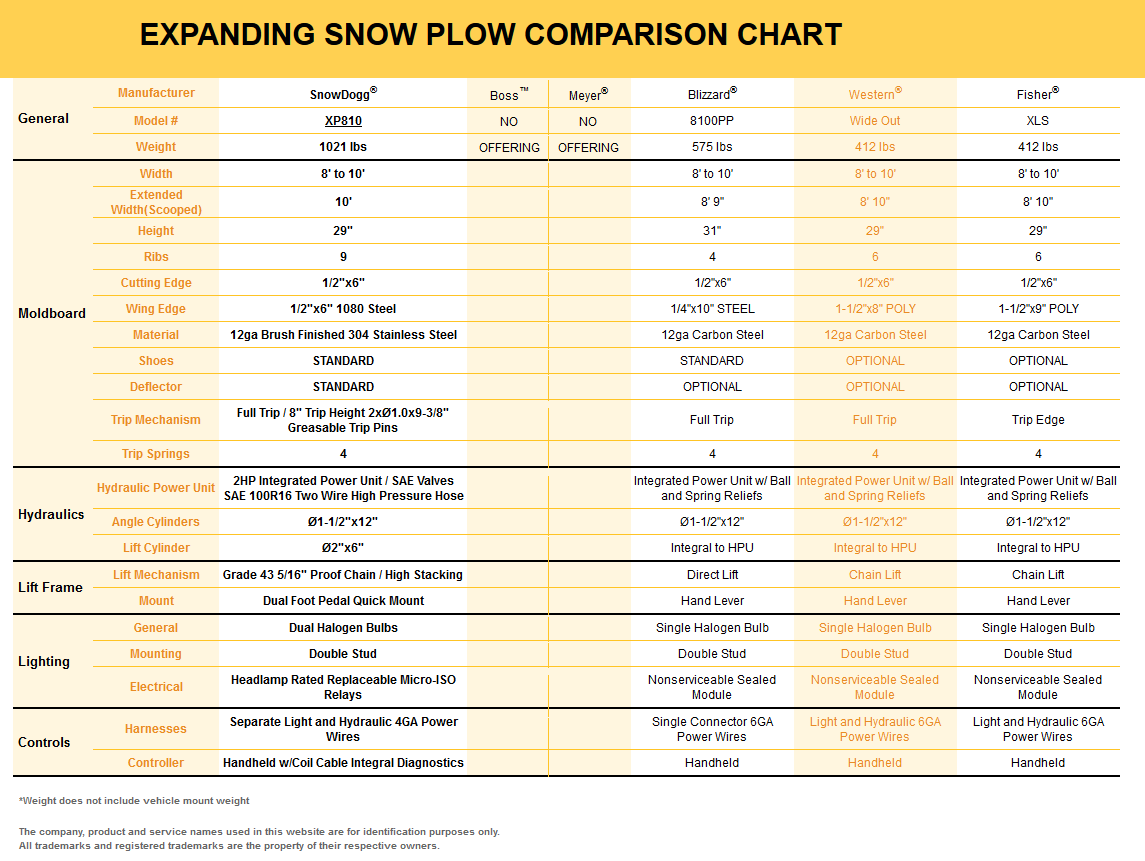 So what are people saying about the Snowdogg XP810?
Click here and check out this XP810 product discussion at LetsTalkNow.com!