Triton FIT864-P 64" Wide X 8' Long Aluminum Utility Trailer with Bi-Fold Ramp, Aluminum Stake Sides, Solid Front End and Plank Deck
Triton FIT864-P 64" Wide X 8' Long Aluminum Utility Trailer with Bi-Fold Ramp, Aluminum Stake Sides, Solid Front End and Plank Deck (
FIT8-64-PLANK

)
Trailer Type: Open Utility Trailer
Manufacturer: Triton
Product Number:
FIT8-64-PLANK
Vendor Number:
FIT8-64-PLANK
GVWR: 2200 lbs
Weight: 457 lbs
Carrying Capacity: 1743 lbs
Axle Capacity: 2200 Lbs
Brakes: None
Tire Size: ST175/80D13
Ball Size: 2"
Wire Harness: 4-Flat
Side: 20.6" High Aluminum Stake Sides with 20.6" High Solid Front End
Price:
$3,079.00
$2,879.00

This product can only be picked up in stores
This is the in store cash price.
Online sales will be charged an extra 2%
Triton FIT864-P 64" Wide X 8' Long Aluminum Utility Trailer with Bi-Fold Ramp, Aluminum Stake Sides, Solid Front End and Plank Deck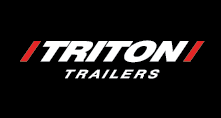 Cash / Check Price: $2879 + Tax
Credit Card Add 2%
As its name suggests, the FIT Series is uniquely designed to fit whatever you are hauling. With a broad range of trailer sizes and carrying capacities, a wide range of accessory kits that fit every trailer model, and the most tie down possibilities to secure cargo – FIT Series is the go-to trailer, no matter what you are hauling.
Trailer Specifications:
GVWR: 2200 Lbs

Trailer Weight: 457 Lbs
Payload: 1743 Lbs
Bed Size: 64" x 96"
Tie Downs: (4) D-Rings
Overall Width: 85-5/32"
Overall Length: 134"
Tire Size: ST175-80D13 C Steel
Coupler: 2"
Hitch Height: 15-3/4"
Deck Height: 18"
Standard Features And Benefits:
Fully Welded, All-Aluminum Frame and Ramp: The Triton difference – fully welded frames and ramps are fixture-built with custom aluminum extrusions, providing added strength and solid structures for years of use.
Durable 1" hardwood plank deck. Hardwood planks are stronger than pine and can be sealed, unlike pressure treated lumber.
Bi-Fold Ramp Option: Easy to use when loading and unloading, the bi-fold ramp also folds flat on the deck when the trailer is empty, reducing drag while towing.
Quickslide™ And 360˚ Carriage Bolt Tie-Down Channels: FIT is the most flexible for securing cargo and offers the most tie down positions. Carriage bolt channels on the exterior of the frame (front, sides and rear) provide 360˚ of tie down possibilities, while Quickslide channels provide tie down options the full length of the trailer deck.
Standard And Optional Tie Downs: Every FIT trailer comes standard with four D-ring tie downs for the full-length Quickslide channels. Additional D-rings, flush tie downs and eyebolt tie downs are available for the Quickslide channels in the deck, and D-rings are available for the carriage bolt channels on the exterior frame.
Flush LED Lighting: LED lighting is integrated into the rear cross members, fenders and side rails for a clean appearance. Wiring is protected from road debris in the aluminum wireways.
Four Cord Rubber E-Coated Torsion Axle: Designed for a smooth ride and corrosion resistance.
Aluminum Fenders: The icing on the cake – sleek aluminum fenders complement the signature fit and finish of the all-aluminum construction FIT trailers.
Included Options:
Fence-Style Side Kit: Includes solid front end and two fence-style sides. Front and sides are 20.6" high from the deck.
Bi-Fold Ramp (in place of standard 4' tall ramp gate)
Made In America
Manufactured In Hartford Wisconsin
---
Questions on this trailer?
Additional Links: