Triton ATV128-2 Tandem Axle Aluminum 3 Place ATV / Utility Trailer with Stone Guard - 6.5' Wide x 12.5' Long (807926)
Triton ATV128-2 Tandem Axle Aluminum 3 Place ATV / Utility Trailer with Stone Guard - 6.5' Wide x 12.5' Long (807926) (
807926

)
Trailer Type: Open Utility Trailer
Manufacturer: Triton
GVWR: 2995 Lbs
Weight: 680 Lbs
Carrying Capacity: 2315 Lbs
Bed Dimensions: 79" x 152"
Overall Length: 202"
Overall Width: 79.75"
Tire Size: 20.5x10 LRE
Ball Size: 2 in
Warranty: limited 5 year
Price:
$3,749.00
$3,449.00

This product can only be picked up in stores
This is the in store cash price.
Online sales will be charged an extra 2%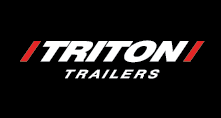 Cash / Check Price: $3449 + Tax.
Credit Card Add 2%.
The Triton ATV128-2 3 Place ATV Trailer is designed with quality materials to ensure you receive the best possible ATV or UTV trailer experience. With features like a straight ramp and full-length adjustable tie-down positions, you can be sure every detail has been crafted to get you to the trail without any hassles.
Trailer Specifications:
Trailer Weight: 680 Lbs
Carrying Capacity: 2315 Lbs
GVWR: 2995 Lbs
Brakes - Not Equipped
Tandem Torsion Axles
Overall Width: 79.75"
Bed Width: 79"
Overall Length: 202"
Bed Length: 152"
Hitch Height: 22"
Deck Height: 25.5"
All Aluminum Loading Ramp
1/2" Marine Grade Plywood Decking
Tire Size: 20.5x10 LRE
Adjustable Tie Down Brackets Full Length Of Side Channel
Dealer Installed Options:
Front Rail Kit (08544)
Aluminum Diamond Plate Stone Guard (11055)
Standard Features:
All aluminum frame using custom integrated extrusions for light weight durability and rigidity.
Strong, all welded aluminum ramp is standard with every ATV trailer.
79" wide deck is narrow enough to see around, yet wide enough for the wheel bases of large ATV's and rear loaded UTV's (use optional side saddle kit)
Side rails 1/4" carriage bolt channels run the full deck length allowing #08660 tiedowns to be fully adjustable to properly secure all your loads. (2 per machine, extas available)
Aluminum loading ramp for rear and side loading of machines is a durable light weight ramp that stores in the rear of the trailer, and out of the way of your loads.
Ramp Clamp system holds and secures the loading ramp under the deck and dampens the rattling effect of lesser designs. Locks with provided padlock.
Four cord rubber torsion axles for a smooth cushioned ride.
E-Z Lube built in grease system for ease of maintenance and positive packing of both bearings and the hub.
Molded wire harness for long life and durability; no splices to fail.
Sealed LED Lights mounted in rubber grommets giving years of trouble free use.
Safety chains with spring loaded clips.
Made In America
Manufactured In Hartford, Wisconsin
Questions on this trailer?